RANCHO SAN PEDRO REVITALIZATION
One San Pedro
ABOUT
Revitalizing Rancho
The Rancho San Pedro public housing site is located in the Barton Hill neighborhood of San Pedro on the Palos Verdes Peninsula near the terminus of the Harbor Freeway (I-110). Immediately adjacent to the Port of Los Angeles and San Pedro's burgeoning downtown, the neighborhood has been recently undergoing a significant revitalization which is expected to continue in the next several years.
UPCOMING EVENTS
Design Workshop 3 + Open House
Tuesday June 25th 4-7PM
Rancho San Pedro Social Hall
275 West 1st Street, San Pedro]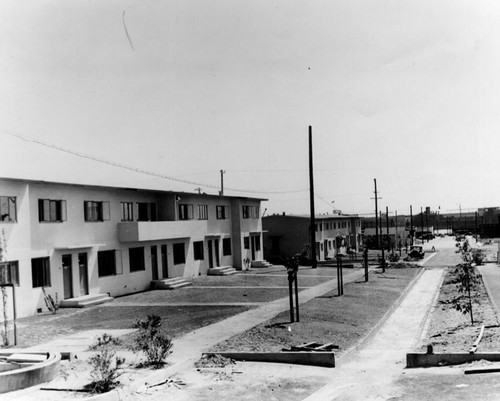 The Rancho San Pedro Neighborhood includes 478 public housing units on 21.2 acres of land along the downtown San Pedro waterfront. The first phase was constructed in 1942 (284 units on 12.5 acres) for Defense Department industry workers and then converted to public housing in 1952, after World War II.
At that point, 194 units on 8.7 acres was added. The bedroom breakdown currently includes: 101 one-bedroom units, 258 two-bedroom units, 78 three-bedroom units, 30 four-bedroom units and 11 five- units. All units have one-bathroom. The current site layout does not maximize the full potential of the property and the unit floor plans are obsolete. A Physical Needs Assessment conducted in August 2017 found multiple site deficiencies, including $48 million in critical and non-critical needed improvements and identified the site as not having Long-Term Viability as defined by HUD.
Have an Idea
for a One San Pedro
Early Action Item?
Download an application below and let us know!